Originally from the Wangaratta area, Eon studied at Palmer College of Chiropractic in the USA for 5 years, returning in 1998 to initially practice in Melbourne and Perth.  In 2007 Eon moved back to the northeast with wife Julie and son Jess.
In 2007, Eon completed a three year Diplomate program in Clinical Chiropractic Paediatrics through the International Chiropractic Association and is one of only a small number of chiropractors in Victoria to have done this program.
In 2013 Eon completed the Certified Chiropractic Wellness Practitioner (CCWP) program, also put on by the ICA, taught by Dr James Chestnut.  The program is an extensive post graduate program looking at the field of improving health status through better lifestyle choices in the fields of food, exercise and mental wellbeing.
Julie Scott
Julie is the  office manager of  Alpine Chiropractic and also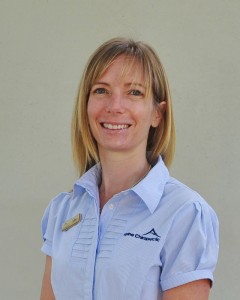 works the front desk at Alpine Chiropractic Wangaratta.
Julie has worked as a Chiropractic Assistant for the past 18 years and has a keen interest in health promotion, especially in the area of nutrition, exercise, childbirth and infant care.
Julie and Eon have a 15 year old son, Jess.
Rosanna Martin
Rosanna joined Alpine Chiropractic in 2021 and has become the friendly and caring presence on the front desk at Myrtleford and some Thursdays in Wangaratta.